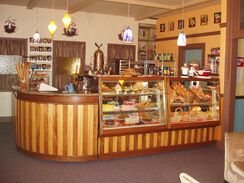 The Bakery
was used as a front company for
Nancy Botwin
's dealing, to launder money through. When Nancy wanted to give up the bakery to purse a career in growing marijuana,
Sanjay
burned it down.
In "Free Goat", Nancy realised that her drug money was useless to her as she couldn't deposite into a bank account. Doug suggested that she start a cover business. She hoped that she would be able to turn it into a real business but it never did.
Ad blocker interference detected!
Wikia is a free-to-use site that makes money from advertising. We have a modified experience for viewers using ad blockers

Wikia is not accessible if you've made further modifications. Remove the custom ad blocker rule(s) and the page will load as expected.