Stevie Ray Bloom
(previously Stevie Ray Botwin, alias Avi Newman) is the third son to Nancy Botwin and third child to Esteban Reyes. Born in 2009. Under pressure from Pilar, Esteban temporarily disownes his child to protect his political image. Andy, under pressure from Nancy, agrees to be the child's adoptive father.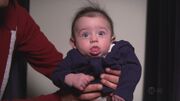 Following Jewish customs, the child is given a bris during which he is named Avi Melech Botwin. After Nancy and Esteban reconcile, Andy signs a release to legally alter Stevie's birth certificate as a wedding present. Stevie lives with his biological father and mother until Nancy flees Ren Mar with her other sons. Esteban dispatches his mobster goons to "find his son"; however, the goons allow Nancy to escape. After Esteban and Guillermo kidnap mother and child at the Detroit airport, Nancy goes to prison for three years while Esteban takes the baby. At some point during those three years Esteban was put into jail where he was stabbed to death and Stevie was left with Nancy's sister, Jill Price-Gray. This then leads to the custody battle between Nancy and Jill during season seven which ends when they all decide to live together as a family in one house in Old Sandwich at the end of Season 7. In season 8, Stevie lives with and reconnects with Nancy and they develop a real Mother-Son relationship. Sometime during the seven year skip David Bloom married Nancy and he adopted him and he was raised like to be Jewish. At the end of season 8 in the two part series finale, It's Time, it's Stevie's Bar Mitzvah and he learns the truth about his father being a drug Kingpin from Guillermo and makes a speech about how he's not really Jewish and does not read from the Torah. He is also a very good soccer player and begs to go to boarding school until Nancy caves.
Ad blocker interference detected!
Wikia is a free-to-use site that makes money from advertising. We have a modified experience for viewers using ad blockers

Wikia is not accessible if you've made further modifications. Remove the custom ad blocker rule(s) and the page will load as expected.